Completely new 2018 guide about Facebook Page Moderation for Facebook Page Moderators and Social Media Managers.You will find and learn almost all answers and secrets about Facebook Page Moderation as a Facebook Page Moderator or Social Media Manager.Especially, comment moderation section will save your life and time! Probably you will pray for me cause of this informative article.
We will explain Facebook Page Moderation in-depth with all possible titles and requirements. Let's begin the journey.
What is a moderator on a Facebook page?
Facebook Page Moderators must check all comments 24/7 on your Facebook Page and they must respond or moderate these comments quick as possible. Deleting, hiding or replying comments are most important tasks for Facebook Comment Moderators. Facebook Page Moderators also should give some reports to you on your Facebook Page at least once a week.
Do I need a Moderator on my Facebook Page?
If you are an enterprise or if you get too many comments from clients or fans then you need Facebook Page Moderator exactly. You must keep your community under control for your reputation and customer happiness, Facebook Page Moderators or Moderation Tools have an essential role in your business.
Can multiple people manage a Facebook Page?
Yes, of course! you can assign multiple users to your Facebook Page through Facebook Page Settings described below;

But Multiple Moderators solution isn't a cost-effective way for your business! As you know that you can have multiple Facebook Pages or you can also have other social platform's pages waiting for moderation, if you have more than one Facebook Page or Other Social Platforms it's hard to moderate all of these pages and it's not cost-effective. Moreover, one person can only moderate your one or two page at the same time and it will not be a 24/7 moderation! If you want to work with a Social Media Agency, it's also not a cost-effective solution for your business, it can be a too expensive way to do it!
At this point, you may want to try Smart Moderation for your Facebook Pages and other Social Media Platforms. This tool can keep under control of your online community 24/7 with amazing Artifical Intelligence Technology, it moderates your Facebook Pages like a human does! If you use Smart Moderation for your Facebook Pages, Facebook Page Moderation will be easier and you won't waste of your time for comment moderation. Smart Moderation automatically moderates your Facebook Pages and sends daily or weekly emails to you with generated reports. This tool gives you an ability that moderating comments and wall posts on your own easily with easy to use dashboard.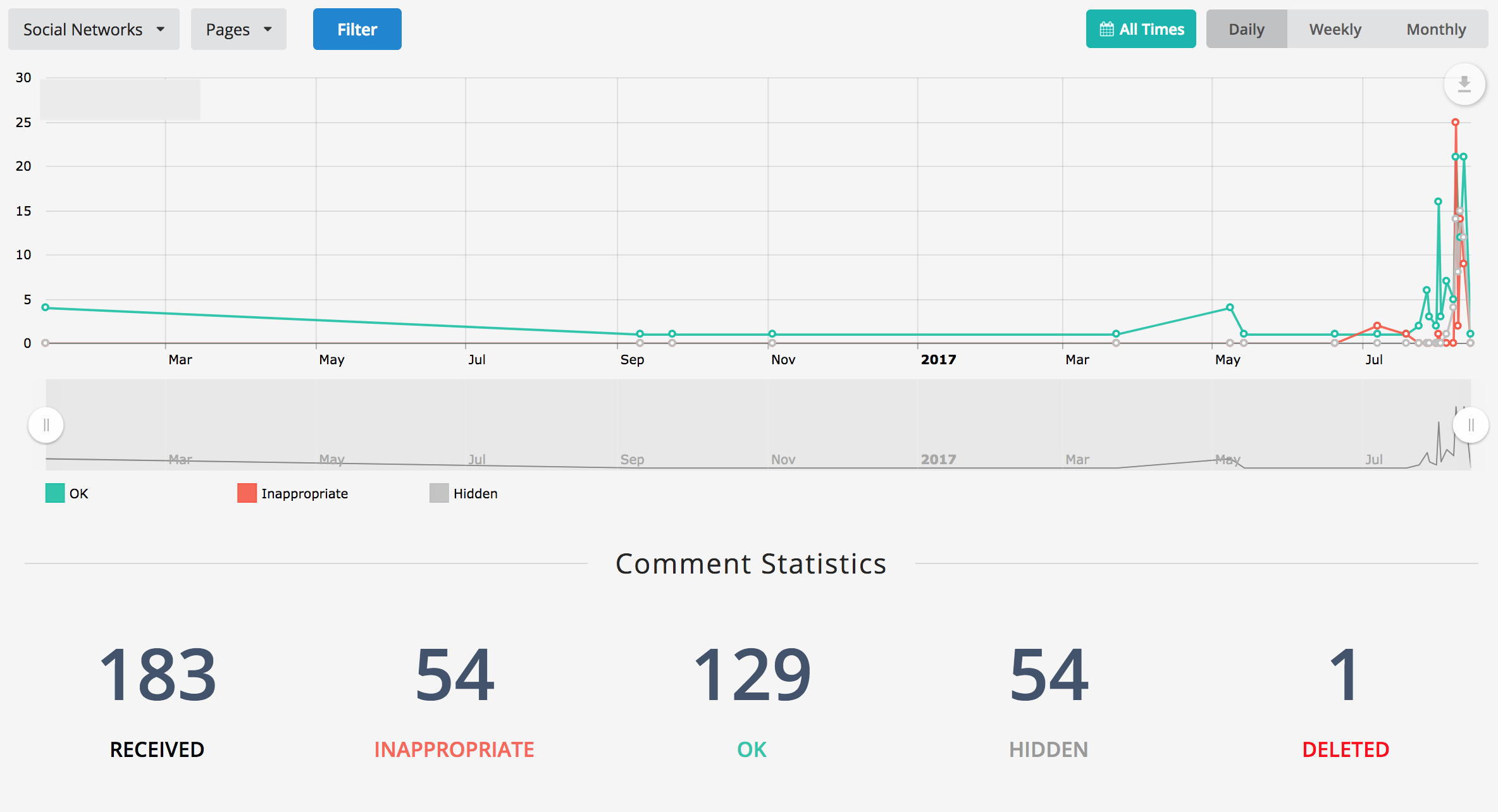 Let's continue to explain next steps and requirements for Facebook Page Moderation.
How do I moderate comments on Facebook?
For the complete solution, you need to use Smart Moderation as a Facebook Page Moderator.Smart Moderation can moderate your Facebook Page automatically instead of a human moderator with powerful Artificial Intelligence and Advanced Blacklist Technology. Thus, Smart Moderation protects your Business Facebook Page 24/7 and generates useful reports for you. You can understand your community's needs and requests through reporting
The second solution is traditionally hiring a human moderator or deal with a Social Media Agency but these are not cost-effective ways.
The last one is doing it on your own! Facebook's Profanity Filter solution can help you to block or hide inappropriate comments but do not forget that it's not really fitting with enterprise's requirements.
How do you block profanity on Facebook?
Facebook has some basic functionality for blocking profanity but unfortunately, it's not enough for enterprises and big-size companies and brands because of high volume customers and fans can write too many comments on your Facebook Page with all possible variations of inappropriate words! So you can't define blacklist for all kind of inappropriate words, it's impossible.Moderation blocklist may not be useful and effective on multilingual Facebook pages. Actually, spammers always find a workaround to bypass filters. Moreover, Facebook's moderation blocklist only works on the page and not on Facebook Ads. There is a new advanced blocklist solution for your Facebook Page but I'll explain it in another paragraph. Let's learn that how to set basic blocklist on your Facebook Page?
In order to block profanity on Facebook Page, you need to set your keywords filter at Facebook Page Settings. You need to add blacklisted words to blocklist for block profanity on comments and posts according to your needs.

Moreover, you can set Facebook's General Profanity filter to low, medium or high for block inappropriate comments. Facebook's General Profanity Filter is working well on child sexual abuse and terrorism but it's very general solution and it's not the fully secure way.

As I said before Facebook's blacklist and profanity filter features are not enough and fitting solution for you and your business! The strong alternative of Facebook's Blacklist features is Smart Moderation's Artificial Intelligence and Advanced Blacklist Feature! Let's take a deeper look at this new solution.
How comment moderation works on Facebook ?
Firstly, If you use Smart Moderation for Facebook Page Moderation. You don't need to define profanity to your blocklist anymore. Smart Moderation's Artificial Intelligence technology will understand the profanity and filter it in real-time but you may want to define blocklist for your specific needs like your competitor's names, appropriate but unwanted words according to your privacy and terms etc.
Exclusively, Advanced Blacklist Feature developed by Smart Moderation for your specific online moderation needs! I'll explain that how it's different and how it works easily.
Let's begin with Facebook's basic blacklist. You must define all variations of unwanted words in order to block them.You must define all inappropriate words, profanity, and specific unwanted words.
Assume that you have blacklisted words like below on your Facebook Page Settings;
If someone writes comment like below;
Fuck you and your business! or Your product is worst than my shit
Facebook can handle it and will hide this comment from your Facebook Page but in this situation, you need to think and define all variations of blacklisted words in order to catch it! because of this your blocklist must contain fuck,fucker,fucking,fuckers,shitty,f.u.c.k,fu.ck,sh!t for better moderation performance.
if someone writes comments like below;
Only Fucking morons can use this company's products
Only mother fuc.kers like your products
Facebook can't handle these comments as inappropriate and won't hide or remove this comment from your Facebook Page because you only defined Fuck keyword to your blocklist! you must define all variations of words to your blocklist according to Facebook's block list feature.Otherwise, you can't hide unwanted comments with Facebook's Basic Blocklist tool.
Let's consider this situation by Smart Moderation side! I'll explain the simple and effective difference.
If you decide to use Smart Moderation, you don't need to define inappropriate words and profanity to blacklist anymore because Smart Moderation's Artificial Intelligence technology will flag inappropriate words and profanity automatically without any blocklist! It's the main difference of Smart Moderation from all kind of blocklist solutions.
If you still need to block some unwanted words according to your specific needs. You can consider using Smart Moderation's Advanced Blacklist Feature!
Assume that we're a Gaming Development Company and our games have lots of competitors on market and we don't want to see these game's names on our Facebook Page's comments. It can be really harmful to our marketing strategy! In addition to this situation, we don't want to see humiliating comments about our games.
In this example, our game name is Inferno and our competitors are Apocalypse, ZombieKiller.Moreover, we don't want to see these humiliating words cause of our company terms and conditions.
We're ready to edit Advanced Blacklist now! We know all of our requirements to block specific words on Facebook Page. We must define our competitors and other specific unwanted words to Smart Moderation's blacklist like below;
Apocalypse#, Ethernity#, ZombieKiller#, Bug#, Lag#, Broke#, Expensive#,crash#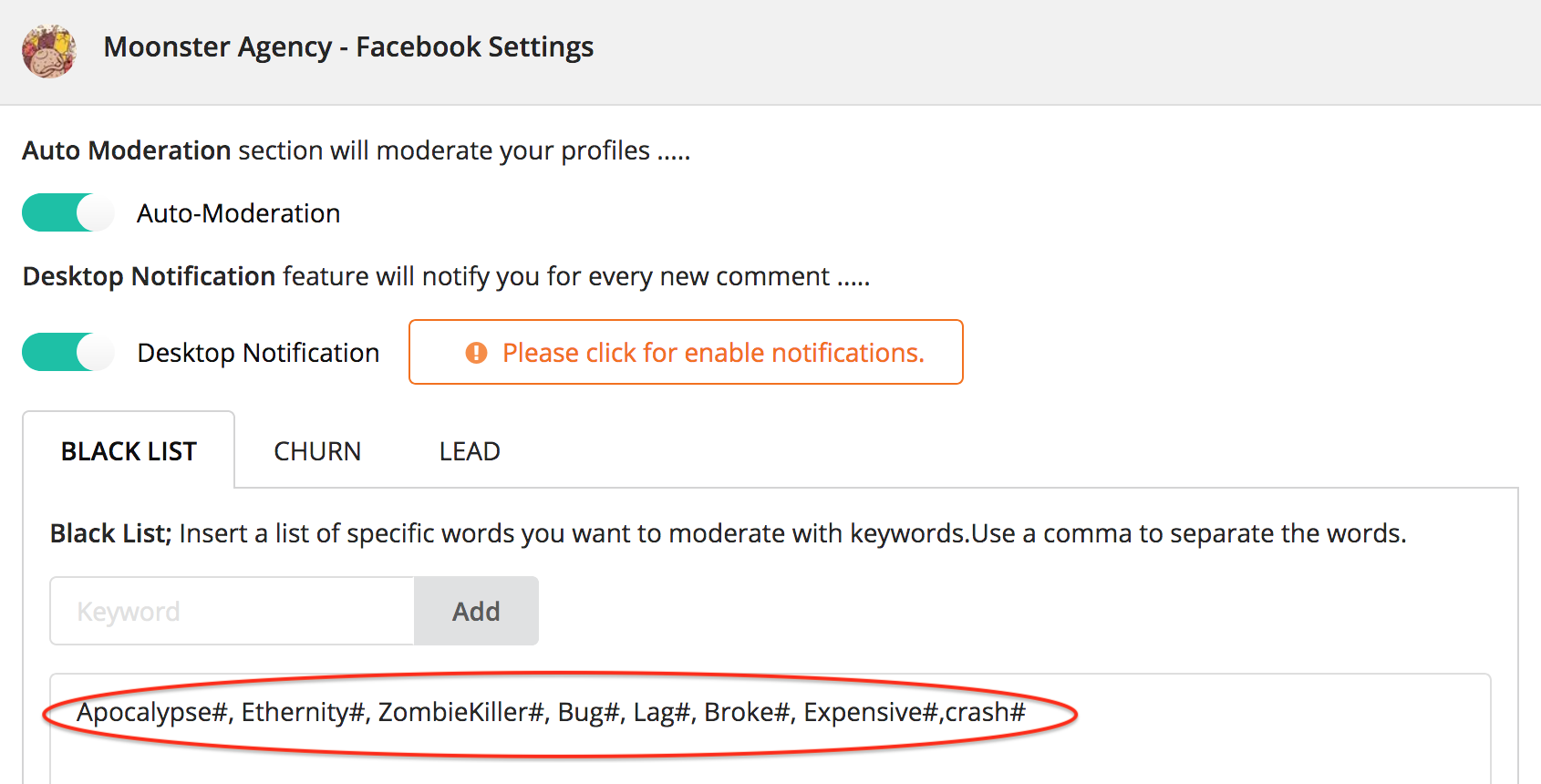 With this easy hack! all variations of these words will handle by Smart Moderation's Advanced Blacklist as inappropriate comments.
Inferno is worst than Apo.ca!yp.se! Game is full of bugs give my money back! Zo.mb!eK!ll.er better than you. game is very laggy and unplayable, really trash Broken game! game is crashing at beginning with black screen Game Crashed at Main Menu Screen and still no response from support team .İ.
Smart Moderation will handle and hide this example of comments in real-time according to your specific advanced blacklist's defined keywords. As you know that these keywords are not inappropriate and profanity, these are some specific words that you don't want to see on your Facebook Page. On the facebook, you must define any variations of this blocklist to hide comments! you must define Zo.mb!eK!ll.er,Apo.ca!yp.se!, laggy, Broken, crashing directly to your blocklist on Facebook but Smart Moderation only needs word stem with a hashtag!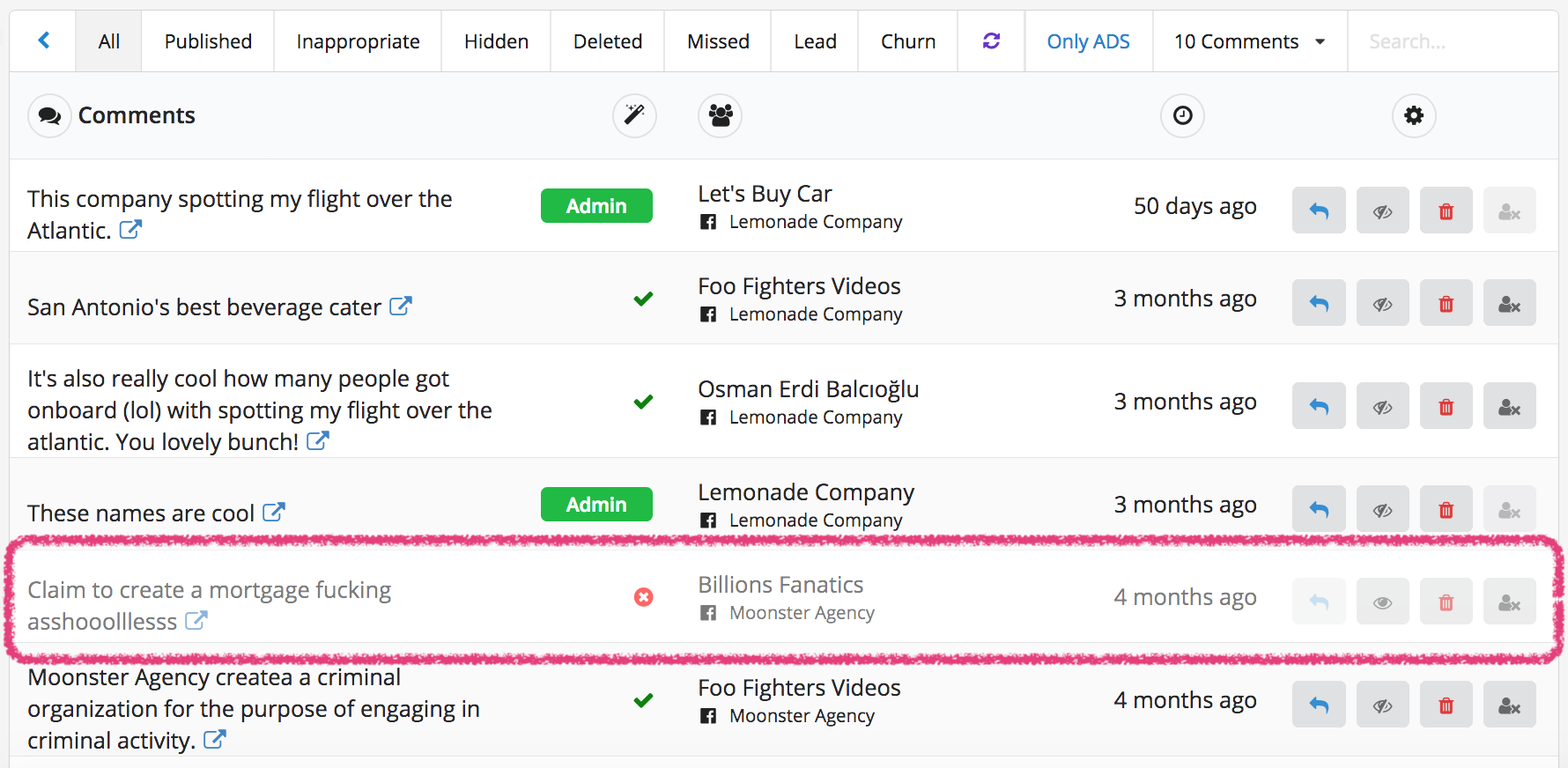 As you can see, Smart Moderation's Advanced Blacklist Feature solves your blocklist problem easily and simply. No more unnecessary keywords From now on! You just need to define word stem with hashtag next to it to check and hide all variations of inappropriate or unwanted words on your Facebook Page. Cleaner blacklists will be more understandable for you and your team.Moreover, your blacklist will be under your control completely with this clean syntax.
As a result, while using blocklist you just need to focus on some specific keywords to filter! Profanity and Inappropriate comments will be flagged by Artificial Intelligence, you only need to define blocklist for your specific needs!
How do I control who posts on my Facebook page?
Actually, you can follow the basic Facebook Notifications to get this information but especially for multiple Facebook Page management and moderation. It's not enough!
Tools like Smart Moderation can give you full control of your community on your multiple Facebook Pages in one dashboard.You can engage with your angry customers or haters to increase your customer satisfaction. Furthermore, Smart Moderation also can notify you through browser notification system, when you received new comments on Facebook Ads Posts.
Artifical Intelligence for Facebook Page Moderation
Nowadays, technology changing the world, text analysis is one of the most successful areas of artificial intelligence! Today, computer success moderation rate for a comment or content is better than Human Moderators.Especially for 24/7 online protection, enterprises decide to use Artificial Intelligence technology for online moderation problems.
Artificial Intelligence can easily distinguish the difference between fucking awesome and fucking morons!
Fucking awesome isn't a profanity actually but you can't distinguish this situation with your Blocklist! Replace your blacklist with Artificial Intelligence now! Instead of Blocklist, you need Smart Moderation or a Human Moderator at this point.
We can see that Blocklist is not a stable way to do moderation. As I said before, you only need to define your blocklist for some specific words! not for the inappropriate and profanity. Because Smart Moderation's Artificial Intelligence technology will flag profanity for you before the blocklist!
Smart Moderation is the unique product that moderates Facebook Page Comments through artificial intelligence in real-time! its success rate is better than human moderators and reporting section also very useful for all size of companies. Especially for the multilingual companies, you don't need to pay too much money for moderators from different countries to moderate different languages! Smart Moderation supports almost all known languages.
Some of the world-wide companies are already using Smart Moderation for Brand Safety on Social Media.
Image and Video Moderation on Facebook Pages.
There are two different solutions for this, firstly you can uncheck Allow photo and video posts at page settings like below;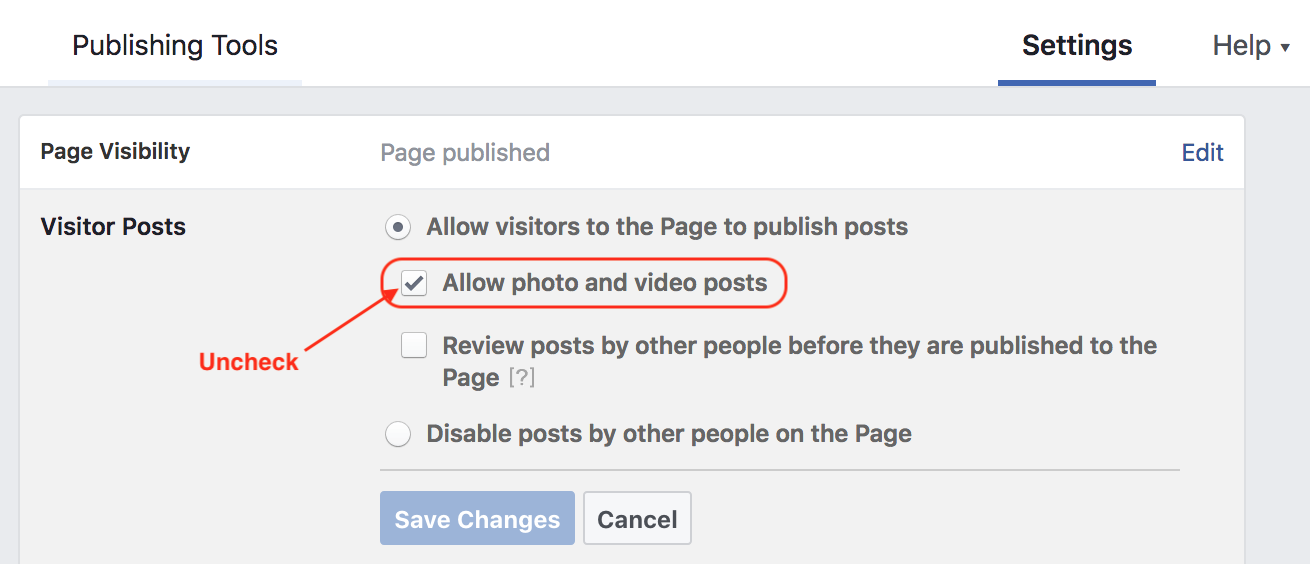 Secondly, if you allow sharing a photo and video posts for your Facebook Page's followers, you need to have at least one moderator employee to check your Facebook page periodically for image and video control.
In conclusion, In this article, I tried to describe all possible ways to moderate Facebook Pages simply and completely. Now, you can decide to use the most suitable way to moderate your Facebook Page according to your needs and requirements.
Please, do not hesitate the leave comments and you can also ask any question about this researched article.
Tags: Comment Moderation,facebook profanity filter, block profanity on facebook, stop profanity on facebook,can't find page roles on Facebook, add an admin to the facebook page, how to find page roles on facebook, Facebook page moderator complete solution